To All Industries Food Products / Beverages / Supplemental Foods, Food Premises, Appliances, Cosmetics and Makeup, Pharmaceuticals, Slaughterhouse and Logistics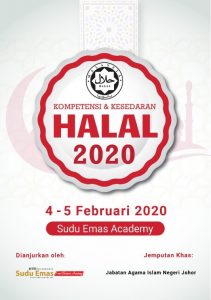 In accordance with the requirements of the latest draft Manual Procedure for Malaysia Halal Certification  (MPPHM)  (4th Revision), each halal certification holder must have a trained staff, understand the Manual Procedure for Malaysia Halal Certification and required to undergo the Halal Certification training.
In the latest draft of MPPHM, Bahagian I (2) states that the Halal Executive is a Malaysian citizen with knowledge and experience in Halal Management and is responsible for halal compliance within a company. Whereas, Bahagian IV (11) states that each employee must attend halal awareness training at least once (1) a year and include the scope of Halal Policy in the company and Malaysian Halal Certification Procedures.
Therefore, the emphasis on strengthening the internal halal management system of the company should be emphasized. In addition, the aspect of enhancing the competence of the individuals involved is also important in playing the role of the halal company in order to strengthen the company's halal management system. 
Contrary to the requirements stated above, we would like to invite and welcome your participation in KOMPETENSI & KESEDARAN HALAL 2020 (SEMINAR EKSEKUTIF HALAL).
Seminar information is as follows:
Date: February 4 – 5, 2020
Time: 8.00am – 5.00 pm
Place: Sudu Emas Academy (Malaysia) Sdn. Bhd.
No. 38 (3rd Floor), Jalan Mega 1, Pusat Perdagangan Mega, Jalan Sakeh, 84000 Muar, Johor, Malaysia  
If your company is interested in attending this seminar, please contact us or visit our website at http://www.halalsmart.com.my/join-our-class/ to fill out the online registration form by providing the information as specified and choosing the class 'Halal Executive Seminar'. We will provide prompt feedback on the payment process.