According to Thomson Reuters in its latest "State of the global Islamic economy report 2018/2019" report which was commissioned by Dubai Chamber of Commerce shows that Malaysia ranks first among countries best-positioned to seize opportunities in the Islamic economy.
Malaysia which has long made halal goods and Islamic finance pillars of its economic development is once again leading in the Global Islamic Economic(GIE) Indicator score for the fifth year in a row. And the United Arab Emirates (UAE) is hot on its heels , according to the new research.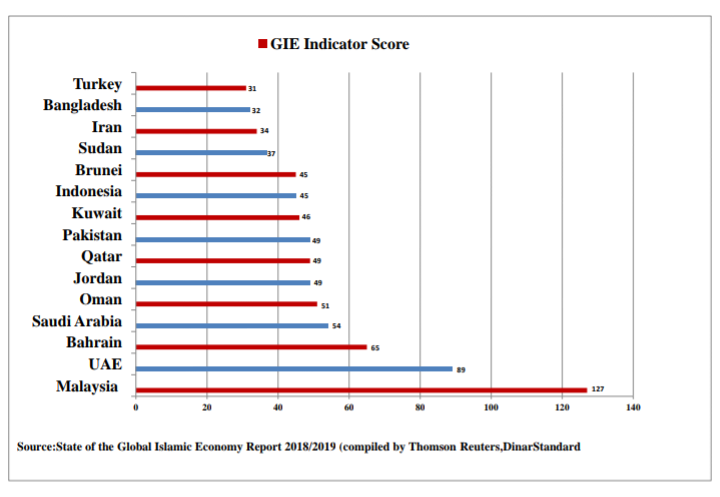 The top ten in the GIE indicator score lists including Malaysia (127 points) , UAE (89 points) , Bahrain (65 points) , Saudi Arabia (54 points) , Oman (51 points) , Jordan (49 points) , Qatar (49 points) , Pakistan (49 points) , Kuwait (46 points) , Indonesia (45 points).
The GIE Indicator gives a comprehensive picture of which countries has the best positioned in a weighted composite of six sectors – Halal Food, Islamic Finance, Halal Travel, Modest Fashion, Halal Media and Recreation, and Halal Pharmaceuticals & Cosmetics.
"The total spending of the halal economy is reaching US$2.4 trillion 2017 and expected to rise to US$3.8 trillion in 2023 ," the report said.
The report said the 2017 figures divided by category, which food and beverage leads Muslim spend at US$1.3 trillion, followed by fashion at US$270 billion, media and recreation at US$209 billion, travel at US$177 billion,pharmaceuticals at US$87 billion and cosmetics at US$61 billion.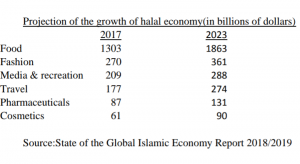 As borders fade and opportunities snowball, Malaysian halal products should aim to go anywhere and everywhere, capitalizing on a global Islamic economy projected to be worth over $3 trillion by 2023.
In 2017, Malaysia recorded RM43.3 billion in halal exports, which made up 4.6% of the nation's total exports of RM935.4 billion. The top importers of Malaysian halal products were Singapore (RM4.9 billion), China (RM4.9 billion), Japan (RM2.8 billion), the US (RM2.7 billion) and Indonesia (RM2.2 billion).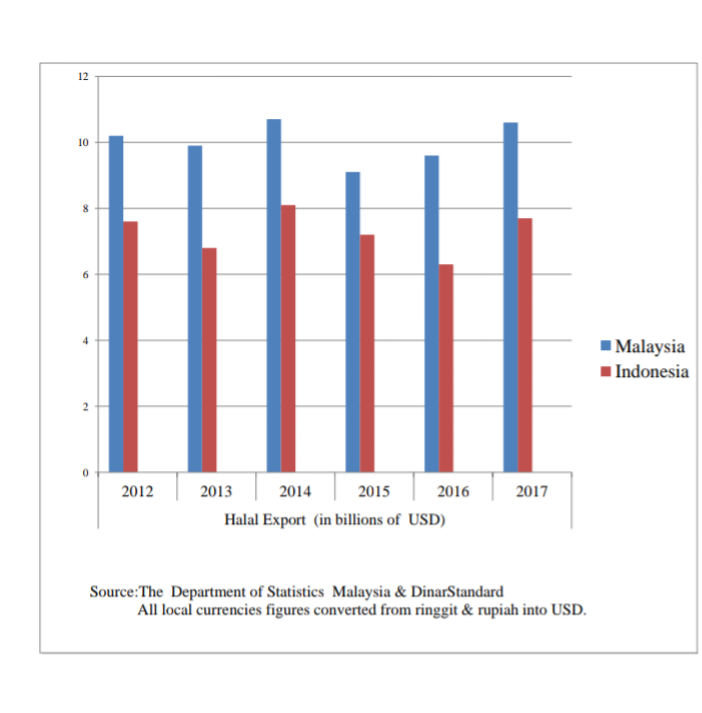 With nearly 90% of its more than 260 million people following Islam, Indonesia has always been one of the biggest halal markets.
Given the growth of the global halal business, Indonesia is looking to mount a serious challenge to Malaysia.
Indonesia is targeting full compliance with halal certification requirements for all products distributed and traded within Indonesia to be halal certified by October 2019.
Malaysia halal certification which is handled by the department of Islamic(JAKIM)  indeed recognized worldwide — though not in Indonesia. 
Malaysia has been keeping up to urge Indonesia to simplified halal food recognition between two countries.
As things stand,the Islamic economy report shows that Malaysia has the edge over its Southeast Asian neighbor in the halal business as the report ranks Indonesia & Brunei the 10&11th place in GIE indicator scores.
The report shows that the most important  competitive balance in Islamic economy is concerning  the scope of halal certification and the way it is administered.
Malaysia having a government body overseeing halal standards and  certification as "the best in the world strict halal certification" making Malaysia better compete with other rivals on the global stage.